PRODUCTS
Solve your cases faster with the fitting tools!
The 3,5 ton version of our mobile laboratories!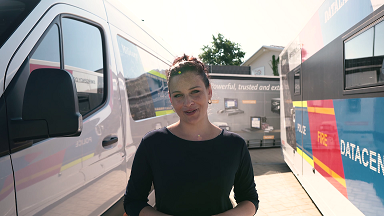 Class B driving licence
Easy handling
Little space required
Space for 3-4 investigators
3.5-5 tons total weight
SwingRack protects against vibrations and guarantees safe operation of IT components
Fully independent for around 1 work week
With this vehicle are all devices for digital evidence and software analysis available. IT forensics, eDiscovery and data recovery can be used even in difficult areas. The integrated rack server enables the installation of systems that are otherwise only available in the control centre.
Thanks to the unique Swing Rack the operation of the sensitive IT equipment is possible even during the ride.
Our current show model is equipped as a mobile triage laboratory with the Cascade solution from Evidence Talks. Thanks to the automated workflow and high-speed data acquisition, it enables enormous time savings both for first responders on site and for the experts in the HQ, who, thanks to data and results already recovered and recorded through Triage, can start  immediately examining for relevant content, sparing as much unnecessary exposure to emotionally stressful material as possible.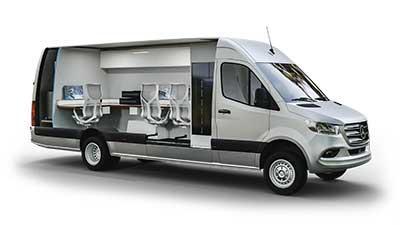 Our experts are happy to help you.​