PRODUCTS
Solve your cases faster with the fitting tools!
Our smallest all-in-one-imager
The BoxCop Mini - Our smallest imaging unit yet, complete with our famous IceBay cooling bay, this unit combines every imaging bridge you will ever need in a single housing!
This all-in- one device is extremely small, lightweight, universally applicable and easy to carry. With this solution you can image suspicious devices and media on site without having to connect countless adapters.  It is enough now simply to plug in the power cord and start your on-site forensic investigations immediately.
The unit also supports many different state-of-the -art forensic imaging software. Sold as a stand-alone unit or as a bundle with our powerful Forensic Laptop.
The BoxCop Mini connects to a host computer and supports forensic acquisitions of SATA, SAS, USB 3.0, PCIe, FireWire 800/400, and IDE storage devices

Drive adapters, including the mSATA and M.2 to SATA SSD, Blade type SSD, SATA LIF, ZIF, and IDE laptop adapters are compatible with the Boxcop Mini

PCIe based SSD's must be connected with included PCIe adapters
BOXCOP MINI FIELD KIT

Our all-in-one imager BoxCop Mini is now also available in the convenient Field Kit Edition! The practical soft case contains the imager and all the accessories you need for mobile use! As all mh solutions, this kit can be individually configured to suit your requirements.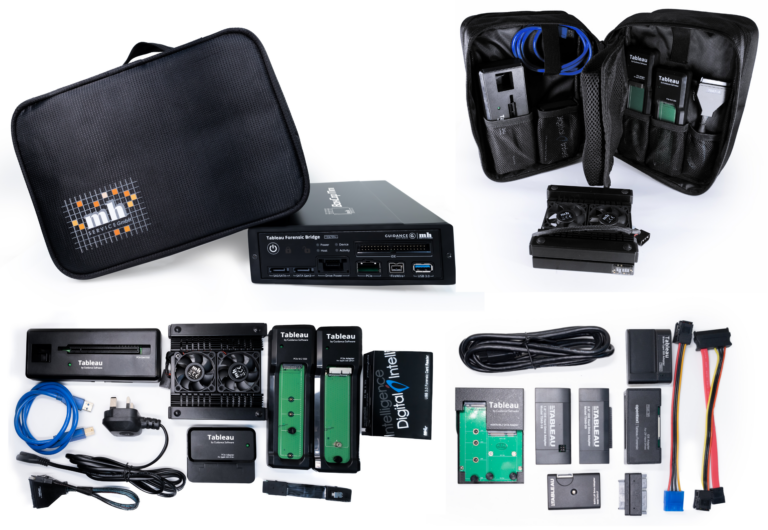 HARDWARE CONFIGURATION
---
Sample configuration (with Laptop):
Forensics:

 

Tableau

 

Forensic

 

Universal

 

Bridge

 

T356789iu

mh Imaging Ventilated Shelf IceBay

Laptop 

hardcase:

 

Watertight,

 

crushproof,

 

and dustproof, open cell core with solid wall design - strong, lightweight

Security:

 

Integrated

 

fingerprint

 

scanner,

 

TPM 2.0 Security Chip

OS: Windows 64 bit (8.1/10), optional Linux 64 bit

Imaging Tools: AccessData FTK-Imager, Tableau Imager, EnCase Imager, Guymager (Linux)
1x power cord and 1x USB 3.0 cable for host connection

USB3.0&PCIe&SATA&FireWire&IDE&SASmh Service Silent Edition incl. all cables, adapters and "Ice Bay" external HDD cooler.

Cable set: TC2-8-R2, TC4-8-R2, TC6-8, TC7-9-9, TC-PCIE-8 adapters: TDA7-1, TDA7-2, TDA7-3, TDA3-1

Dimensions 170 x 260 x 53 mm
These specifications are our standard specifications. All our devices are individually configurable.
We believe in our products and our quality! As a sign of our trust in our products you will get up to 5 years warranty.
Our experts are happy to help you.