PRODUCTS
Solve your cases faster with the fitting tools!
Maximum performance plus high-end quality: The TreCorder is the mobile forensic laboratory
Mobile forensic laboratory for fast data acquisition, pre-analysis and evaluation

Imaging of 3 HDD, SSD, etc. and also phones SD cards at the same time without any loss of performance
The TreCorder® is the highest performing portable device in the world for mobile digital-evidence-collection in computer forensics. The TreCorder® was developed on demand from and together with different public establishments at home and abroad. The TreCorder® is equipped with three internal HDD-Writeblocking-Devices (T356789iu), which guarantee a safe and legally suitable copy/cloning without changing any of the original data.
WRITE BLOCKED CONNECTIONS

MOBILE IMAGING WORKSTATION
The TreCorder/DuoCorder use only high-performance components (motherboard, CPU, RAM, etc.). These are significantly more powerful than comparable so-called mobile components (such as those installed in laptops) and they are considerably easier to maintain. With our TreCorders & DuoCorders, in addition to the on-site multiple forensic imaging of data carriers, forensic examinations can also be carried out at the same time as the imaging process. By default, the TreCorder & DuoCorder  are both configured as a dual-boot system. In addition to the Windows® operating system from Microsoft®, the device can also be started under Linux, which opens up a variety of possibilities for the IT forensic scientist. The essential core of the TreCorder are its three Write-blockers and of the DuoCorder its two, all from the world famous company Tableau. Write-blockers are an absolutely necessary component when it comes to securing digital data carriers in such a way that the data can be used as evidence in a court.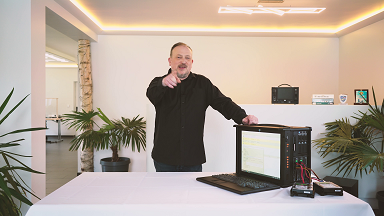 Mainboard: Intel X299 Chipset Workstation Edition
Processor: Intel Core X-Series i7/i9 CPU of the newest generation
Video Card: PCI-Express HD video card
System SSD: 512 GB in removable tray
Destination storage: 12 TB internal storage, hot swap, (expandable to 30 TB) • RAM: 32 GB DDR4 RAM (expandable to 512 GB)
Optical Drive: DVD RW Slim Line external
Accessory: specially developed ICE Bay cooler for suspected drives
   These specifications are our standard specifications. All our devices are individually configurable.
We believe in our products and our quality! As a sign of our trust in our products you will get up to 5 years warranty.
Our experts are happy to help you.