PRODUCTS
Solve your cases faster with the fitting tools!
ONLINE-MONITORING VON RISIKEN UND GEFAHRENLAGEN
Sofortiger Zugriff auf Echtzeit-Einblicke in soziale Medien ermöglicht eine gezielte Reaktion

Entscheiden Sie informiert mit KI-basierten Daten
In Gefahrensituationen und bei Störfällen wollen Sie Unklarheiten schnell beseitigen. Bei der unendlich großen Menge an verfügbaren Daten ist es allerdings schwer, sich ein vollständiges Lagebild zu machen. Das gelingt nur mithilfe intelligenter Technologie. PublicSonar bietet Ihnen jederzeit Einsicht in relevante Daten – durch den Einsatz von künstlicher Intelligenz (KI) und natürlicher Sprachverarbeitung (NLP). Unsere Software lässt sich dabei ganz einfach an die aktuelle Situation und Ihren Informationsbedarf anpassen.
Erkennen Sie Frühwarn-Signale
Mithilfe von Algorithmen können Sie drohende Gefahrensituationen und Störfälle frühzeitig erkennen. So sind Sie in der Lage, schnell zu handeln und eine Eskalation zu verhindern.

Erfassen Sie die Lage mithilfe der Öffentlichkeit
Mit PublicSonar können Sie den kontinuierlichen Strom von Meldungen aus der Öffentlichkeit analysieren und Zusammenhänge erkennen. So erhalten Sie einen umfassenden Überblick über Örtlichkeiten, Umstände, Stimmungen und die Zuverlässigkeit von Informationen.
Treffen Sie sichere Entscheidungen
Durch ein schnell deutlich werdendes Lagebild verstehen Sie, was vor sich geht. Sie handeln mit größerer Sicherheit, verfolgen die Entwicklungen genau und bewältigen den Vorfall.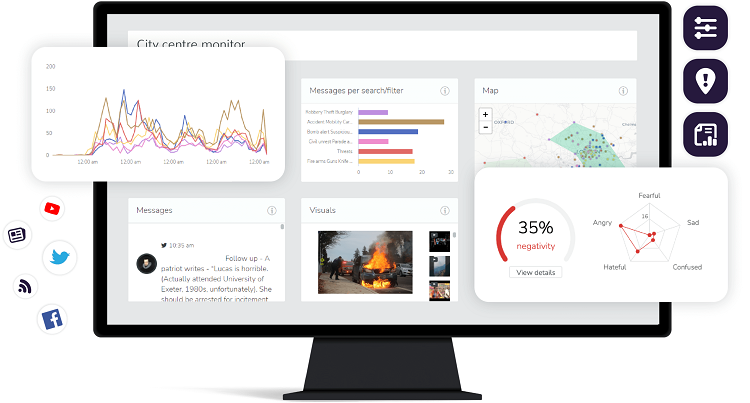 Our experts are happy to help you.