PRODUCTS
Solve your cases faster with the fitting tools!
ARE YOU AWARE OF WHAT IS GOING ON IN YOUR CITY ONLINE?
Human traffickers target your city for customers to trade their human goods. The Darknet and online Forums contains content that reveals illegal activities related to your city. Are you aware of these online crime signals?
We are continuously monitoring the Internet to detect human trafficking and other criminal activities targeting your city. We collect and structure the data into actionable intelligence and make these datasets available to (local) governments and cities.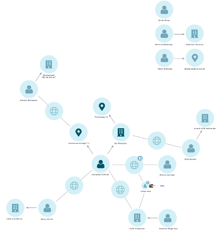 DATASET HUMAN TRAFFICKING
The internet facilitates communications of your citizens, trading and trafficking of goods from - towards - and within your city. Human traffickers also use the power of the Internet to connect with their markets. The human trafficking dataset with hundreds of thousands sex advertisements, will get you insights, alerts and an automated Risk analyses that enables you to detect and resolve illegal-, horrific situations for (mainly) young women in your city. Always be alerted when new activity is detected. Each country and region has its own information need. We deliver in-depth harvesting and monitoring for specific sources on request. For further information please contact us or 
click here.
Our experts are happy to help you.