PRODUCTS
Solve your cases faster with the fitting tools!
CFID: Compact Forensic Imaging Device
Battery powered duplicator - also for iOS and Android
The CFID (Covert Forensic Imaging Device) is the world's smallest handheld battery powered, forensic collection and imaging device.
The Covert Forensic Imaging Device or CFID was designed for forward operating military, intelligence, and law enforcement users who need a simple, small and inconspicuous solution for forensic imaging of portable media, SIM cards, iOS and Android devices, UAV flight logs, active & deleted files and much more.
Extract and Image USB Storage and SD Cards
Extract and Preview SIM Cards with Watchlists (IMSI and More)
Remote Network Connectivity and VPN (remotely access data)
iOS and Android Content Extraction
Immediately Extract & Preview Flight Logs from DJI UAVs
Automatically Recover Deleted Files
The CFID is an operator friendly, hand-held solution that will improve digital intelligence collection while reducing time on target.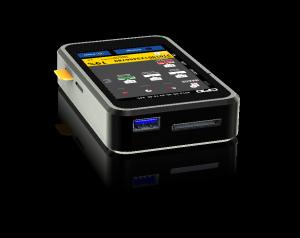 NEW! Now with Drone UAV Capabilities
UAV Exploitation Solution
The CFID utilizes SkySafe technology to support a large number of commercial UAV products. The CFID supports the extraction and processing of GPS and metadata within a few moments of capture.
Visible Logs At Point of Capture
Once extracted and processed, data can be viewed instantly on an Android device of your choice with the custom CFID data viewing APK or any standard KML viewing application.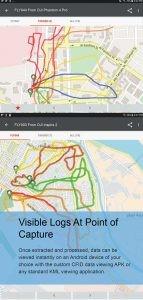 CFID PRIMARY SPECIFICATIONS
USB 3.0 Host Ports (Input and Output)
SD Card Slot (Input)
SIM CARD Forensics (Both Micro and Full Slot)
Supports SIM, USIM, R-UIM
SIM card Watch List & Live Preview of IMSI
Simultaneous SIM and SD / Thumb drive Acquisitions
CNC Machined Aluminum Case
High Resolution Screen
Six Hour Battery (Operating)
IMAGE – CLONE – WIPE – FORMAT Flash Media
Internal 128 GB Solid State Drive
Supports DD, E01 and other Image types
48/88MB/s imaging/wiping speed
Supplied Ethernet Adapter for Network Reach Back
Can be powered via: AC Adapter or Internal Battery
Can be charged via USB 3.0 Device or AC Adapter
COMPLETE CFID KIT INCLUDES
CFID V3 Device
All Required Cables
Ethernet Adapter & Card Reader
Sim Card Adapters
Charger
Unlimited Firmware Updates
Protective Case
Upgradeable to Support UAV
Companion Viewing APK
Our experts are happy to help you.