PRODUCTS
Solve your cases faster with the fitting tools!
All the writeblockers you will ever need in one single device!
This all-in-one imager is small, lightweight and universally appliable! Available as a bundle with the Forensic Laptop or separately.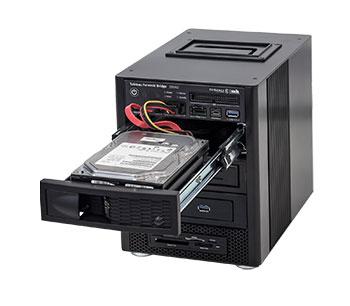 Fast Data aquisition of HDD, SSD, SD cards etc.

Complete cable set

Software for bundle with Forensic Laptop on demand
This highly usable bundle consists of our powerful forensic laptop and the all-in-one imager BoxCop.
The BoxCop contains a powerful Tableau T356789iu Universal Forensic Writeblocker with SATA, USB, PCIe, SAS, FireWire and IDE connectors/adapters, a Hot Swap Bay for destination drives and a Forensic Card Reader.
A sophisticated internal cooling system protects the BoxCop from overheating during the fast imaging process, and source drives are efficiently cooled down with our unique IceTray extendible cool tray.
All forensic images can be saved on the internal hot-swappable hard drive or on the laptop.
With this solution you have everything you need to image suspect devices and media on site, without having to connect countless adapters. It is enough now simply to connect the BoxCop to the Forensic Laptop and start your forensic investigations directly on site.
The bundle includes a cable set with all the necessary connector cables, adapters, a fine tool-kit and a sturdy but lightweight case (cabin luggage size) for easy transportation.
WRITE BLOCKED CONNECTIONS

               These specifications are our standard specifications. All our devices are individually configurable.
We believe in our products and our quality! As a sign of our trust in our products you will get up to 5 years warranty.
Our experts are happy to help you.