OVERVIEW
Powerful, trusted & extremely fast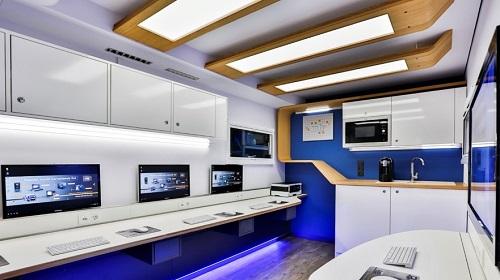 The mh Service GmbH
With 30 years of experience, mh Service are one of today's leading providers of services and products related to IT, mobile phone and audio-visual forensics, and Europe's only supplier with their own hardware development and manufacturing departments.

As partners of all current forensics market leaders they can provide the full range of high-end storage and network solutions, small hand-held devices, workstations, servers and high performance multi-processor clusters from a single source, furnishing complete digital forensics laboratories and fully independent mobile labs.

MOBILE PHONE FORENSICS
IT-FORENSICS
PHONE UNLOCKING TOOLS & PASSWORD CRACKERS
DARKNET & SOCIAL MEDIA INTELLIGENCE
AUDIO & VISUAL BIOMETRICS
Our headquarters
Since 2016, our headquarters are located in Kandel in the South-West Germany. We invested in a sustainable and future-oriented construction for our offices and production area, equipped with the latest technologies. Our own fully equipped training centre for digital forensics, mobile phone forensics and data recovery is also located here.
Our customers
Our customers include federal and government agencies, Police, European and International authorities, medium-sized companies, large companies, institutions and universities.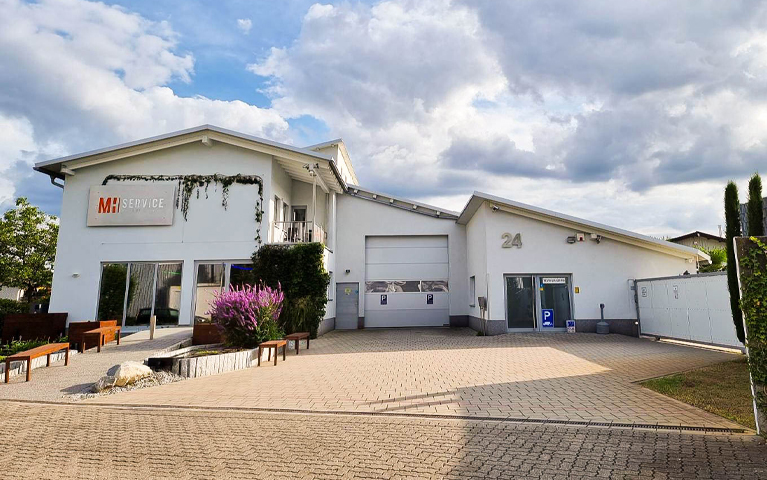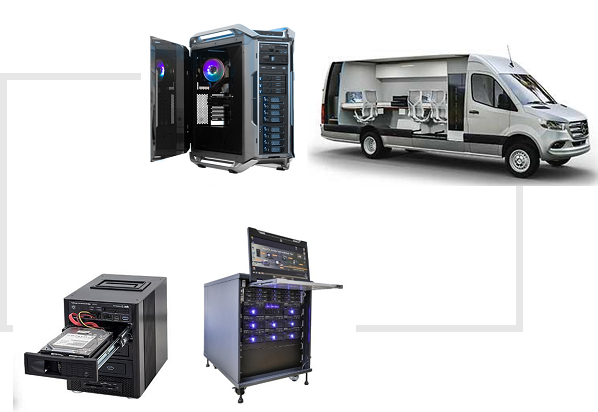 Portfolio
We produce solutions from smaller hand-held devices through to workstations, servers and accessories.
As a system integrator we also design and build fully customised and fully equipped laboratories – either on site, on a truck base, in a van, or in a portable container.
All our devices undergo 24-hour stress testing ensuring smooth operation upon delivery at your premises.
Our customers appreciate that we are not only a distributor, but also advisor and system integrator. This gives us the possibility to advise you on projects and to act as single point of contact for all your needs in the IT-Forensic field.
We are now certified with ISO 9001:2015!
Our top priority is to be always able to offer a consistently high quality of our products and services.
We are pleased to inform you that mh Service GmbH has been certified with ISO 9001:2015 after an assessment by the independent Institute Veritas Assurance International regarding the quality management system. This certificate is a proof of our commitment and continuous efforts to always improve the quality of our products and services!
With our ISO 9001 certification we give customers, partners and suppliers an internationally recognized proof of competence and performance.
Quality at its best!
As a mark of our belief in the lasting value of our hand-made products, we give our customers up to 5 years Warranty on all our mh-Service hardware products.
First contract signed with the German government to supply portable-PCs

Shortly followed by an expansion of our services to include:

High Performance Cluster Labs, High Availability Storage Solutions
The manufacture of our own metal cased Portable-PC, the "ATLAS Series"

For the turn of the century we started a new hardware development and production for a different kind of hardware for the IT-Forensics world

Became one of Tableaus' biggest re-sellers for forensic hardware

High demand for our TreCorders, AntAnalyzers and special hardware systems led to further development and higher product runs

First contracts for digital forensics laboratories for data recovery signed by Interpol

Development of the unique, fully equipped and completely independent mobile truck based IT-Forensics Laboratory 'Paladin', enabling forensic investigations to be carried out directly on-site.

Other recent developments include

The opening of our new company head-quarters
Opening of our fully equipped 'in house' training centre for Digital Forensics and Data Recovery
Completion of the 'Lab Cube' - the evolution of 'Paladin' - a fully operational independent mobile IT-forensic laboratory in transportable container form
Further expansion of our forensic vehicle production - with more new, original unique in planning
The creation of innovative cluster systems, such as Password Recovery Accelerator Clusters
New Data Recovery Lab on-site at our new company HQ based in Kandel

We work hand in hand with 99% of all IT-forensic manufacturers.

Our primary objective is to cater for your individual needs and offer the best service possible by our well trained and professional employees. We are constantly improving our products, making sure they will always be at the highest level of technology and innovation.

We welcome you to join in our success and we look forward to working with you.