PRODUCTS
Solve your cases faster with the fitting tools!
Data recovery directly on site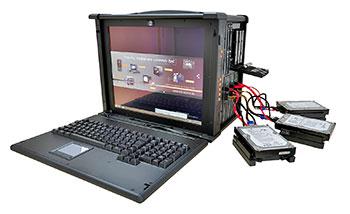 The Data Recovery System is built on the basis of our Trecorder. It is the highest performing portable device in the world for mobile HDD/SSD and Flash repair as well as for data recovery in the field for computer forensics. It is equipped with the all-in-one Ultimate System for data recovery of HDD, SSD and RAID, which is extendable to Flash functionality. This system is the fastest and most efficient solution for diagnosing and repairing damaged hard drives from numerous vendors, of various capacities and with different file systems. As our Data Recovery System is equipped with three internal writeblockers, it can also be used for mobile digital evidence collection.
The Data Recovery System is a powerful hardware-software combination that allows to recover data from damaged drives in record time. The system supports drives from countless manufacturers and facilitates finding and repairing the damaged sectors as well as choosing the according action to retrieve the content. This hardware system is used both in small laboratories and big enterprises for urgent data recoveries.
WRITE-BLOCKED CONNECTIONS
Mainboard:  Intel X299 Chipset Workstation Edition
CPU: INTEL CORE – i7 or i9 CPU newest generation
Video card: PCI-Express HD video card
System: 512GB SSD in backplane
Destination storage: 6 TB internal storage, hot-swap, (up to 30 TB)
RAM: 32 GB DDR4 RAM (up to 128GB)
Optical drive: DVD-RW Slim Line external
ICE Bay external cooler for suspected drives
                 These specifications are our standard specifications. All our devices are individually configurable
We believe in our products and our quality! As a sign of our trust in our products you will get up to 5 years warranty
Our experts are happy to help you.