PRODUCTS
Solve your cases faster with the fitting tools!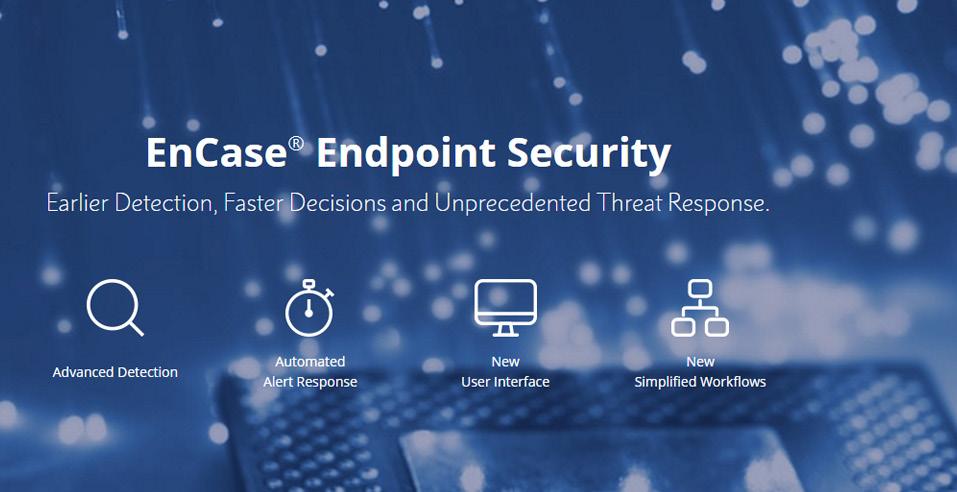 Deep endpoint visibility for earlier detection of insider and external threats, alerts validation and forensic-grade incident response including complete remediation.
The rapidly evolving cyber threat landscape is reducing the effectiveness of traditional perimeter and signature-based security systems. Additionally, Security Information Event Management (SIEM) and other alerting technologies are bombarding security teams with alerts, overtaxing their ability to analyze, prioritize and respond to threats before irreparable damage or data loss occurs. Organizations need to establish better visibility into endpoints to face these challenges.
Earlier detection
of endpoint security threats

More efficient recovery from
security incidents of up to 77%

Faster response
to malicious activity of up to 90%

Greater visibility via continuous
monitoring of endpoints
OpenText™ EnCase™ Endpoint Security provides security teams with 360-degree endpoint visibility to validate, analyze, scope and respond to incidents quickly and completely. As a best-of-breed Endpoint Detection and Response (EDR) solution, it empowers organizations to tackle the most advanced forms of attack at the endpoint, whether from exernal actors or internal threats. EnCase Endpoint Security is designed with automation and operational efficiencies that help incident responders find and triage security incidents faster to reduce the risk of loss or damage.
EARLIER DETECTION OF ENDPOINT SECURITY THREATS
EnCase Endpoint Security enables security teams to redefine their workflow from passive 'alerting' mode to proactive 'threat hunting', actively scanning for anomalies indicative of a security breach. It creates a baseline of endpoint activity used to detect anomalous behavior or recreate how a data breach occurred using historical intelligence.
FASTER RESPONSE TO MALICIOUS ACTIVITY
EnCase Endpoint Security accelerates response time, significantly reducing the risk of data loss and damage to systems. It reduces triage time by up to 90%, helping incident response (IR) teams validate and assess the impact of malicious activity – even polymorphic or memory-resident malware. Organizations can realize even greater efficiencies by integrating EnCase Endpoint Security with third-party alerting technologies via RESTful APIs.
MORE EFFICIENT RECOVERY FROM SECURITY INCIDENTS
Once a threat is identified, EnCase Endpoint Security surgically contains and remediates malicious files, processes and registry keys without the need to conduct a full wipe-and-reimage. This approach avoids the costly system downtime, loss in productivity and lost revenue associated with traditional forms of remediation, reducing the time to remediate a threat by approximately 77%.
GREATER VISIBILITY VIA CONTINUOUS MONITORING OF ENDPOINTS
Today's security teams require the ability to capture endpoint data on an ongoing basis to quickly identify changes and create a historical timeline of activity for root-cause analysis. Configurable realtime, continuous monitoring capabilities provide the necessary level of visibility and insight required to monitor all network endpoints at any scale.
For further information please contact us or 
Click Here
Our experts are happy to help you.