PRODUCTS
Solve your cases faster with the fitting tools!
Smartphone Charging Station
Temperature controlled charging station for multiple smartphones & devices with Ventilation
Enables space-saving organisation of seized smartphones & devices for charging, prior to and during acquisition and analysis, with easy assignment and enormous time savings due to working in a structured manner. Ideal for storing the smartphones during bruteforce attacks.
Features:
For up to 35 smartphones, GPS devices and tablets
15 U, 19 inch cabinet, 40 cm deep
Outside measurements 60x75,8x40 (WxHxD)
Mounted on trolley with 4 castors and brake (load capacity 300kg, 100 mm with rubber wheels)
Removable lockable side walls
Lockable front door made from ESG safety glass
Stair-shaped smartphone shelf with ventilation slots
Seven levels for storing devices
Space for five devices per level
Anti-slip strips
Stepwise offset device positions for better access
Charging cable feeds from below through slots in the perforated plate
Holes in the perforated plate tapering downwards in order to catch the plugs
Cable fastenings with velcro fastener included
Ventilation with quiet fans, temperature controlled with thermostat (setting range: +5 °C to +60 °C)
Incl. 2x 8-socket power strip
Smoke detector incl. 10 year battery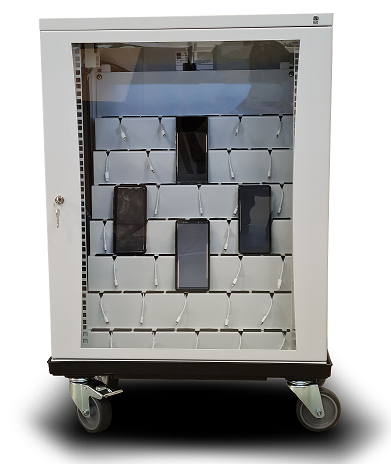 We believe in our products and our quality! As a sign of our trust in our products you will get up to 5 years warranty.
Our experts are happy to help you.