PRODUCTS
Solve your cases faster with the fitting tools!
REMOTE IMAGING SYSTEM
The Remote Imaging System (RI) consists of three logical units:
Triple Imaging Shelf (TIS)
Server/Storage Unit (SU)
Remote Terminal (RT)
The advantages of the RI system are its flexibility, its ability to cater for special wishes, and the possibility of seperating the units and its high scalability.
For example you can intergrate the server into an existing server room, use it with the existing storage systems, and monitor the TIS units from your work place.
From the comfort of your desk you can easily make an 'image' of the suspect device and store it, whilst simultaneously examining the investigators previously stored data. Connecting via fibre optic cable gives you a distance of up to 50 meters, which can easily be covered.
The system is controlled remotely by either a special terminal, a workstation, or with your laptop. Through 'clustering' RI systems can be freely 'scaled' and adopted to individual needs.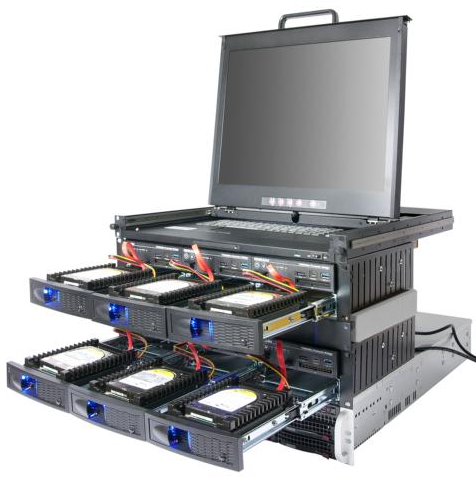 KEY FEATURES
High speed imaging of 6 devices simultaneously up to 185MB/s
All types of interfaces: PCl-e/ SATA/ IDE/ SAS/ USB/ FireWire
Distance to destination up to 50m
Fibre optic connection between target and destination
Computer Case:
2U Server Chassis with Rack mount Kit
Power Supply:
Redundant Power Supply
Mainboard:
Dual socket LGA 3647
CPU:
2x XEON Scalable CPU´s
RAM:
up to 2TB RAM
HDD:
2x SSD RAID as System drive
12x 3,5" Hot-swap Drive Bays
Cache:
SSD as Cache/Swap drive for system acceleration
Input/Output:
12x USB 3.0
2x Gigabit LAN
1x 10GB Fiber Channel
Computer Case: 2x 19" 2U Rack mount 1x 19" 1U Switch and contol unit
Forensic Bridge: (2x) 3x Tableau T356789iu PCI-e/SATA/IDE/SAS/USB/FireWire
Cooling-Tray: (2x) 3x ICE TRAY 5.25"
USB 3.0 Extender: 3x 2 port USB 3.0 to fiber Channel Extender 3 x 50m Mulitmode Fiber Channel Cabel
Periphery: 1 x 19" Rack mount Display KVM Konsole
Software: Windows Server, Linux or dual boot
Our experts are happy to help you.