TABLEAU T9 FORENSIC FIREWIRE BRIDGE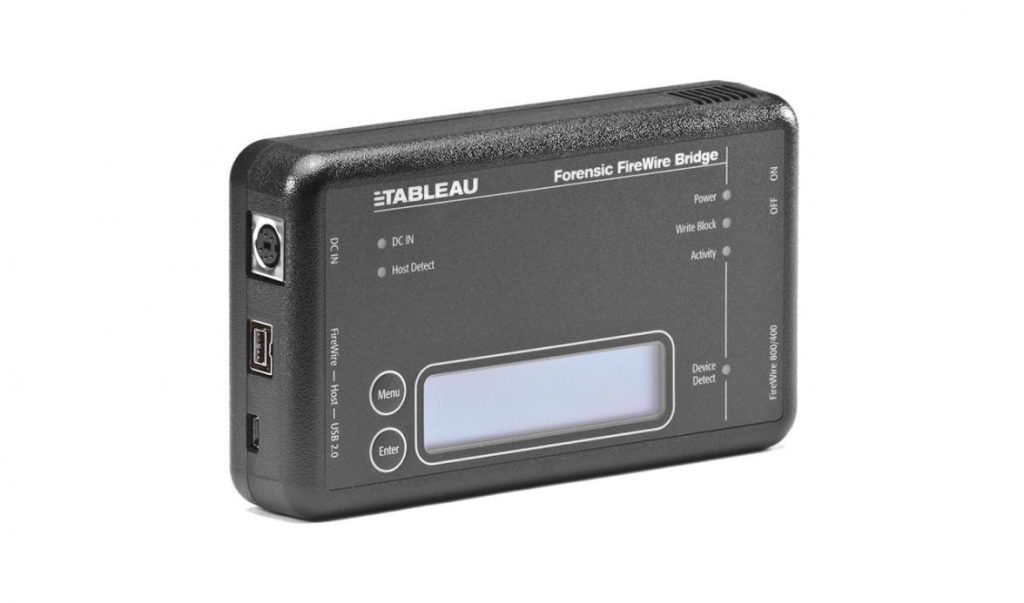 Tableau's Forensic FireWire Bridge offers secure, hardware write-blocking for FireWire storage devices. The T9 supports FireWire800 (1394B) and FireWire400 (1394A) storage devices which use the SBP-2 (Serial Bus Protocol-2) storage protocol. The T9 works universally with external FireWire hard disks, FireWire RAIDs, older Apple iPods with FireWire interfaces, and other FireWire storage devices.
Notably, the T9 can be used to image Apple desktop and notebook computers booted in Target Disk Mode. Target Disk Mode is a special boot mode unique to Apple computers in which the computer emulates one or more SBP-2 FireWire storage devices. Using the Tableau T9 in combination with Apple's Target Disk Mode makes it possible to acquire forensic images from Apple computers without disassembling the computers, saving forensic examiners considerable time and risk.
The T9 offers FireWire and USB host interface options similar to its sister product, Tableau's T8 Forensic USB Bridge. However, while the T8 offers a FireWire400 connection to the host computer, the faster architecture of the newer T9 offers a FireWire800 connection to the host computer, allowing much faster imaging speeds [note 1].
And, like the Tableau T8, the T9 incorporates an LCD user interface. The T9 uses the interface to present drive and status information at a glance and to prompt the user for input in multi-LUN situations.
WRITE BLOCKED CONNECTIONS
FEATURES
Can be used to image Apple desktop and notebook computers when booting in "Target Disk Mode"
The integrated, backlit LCD display provides useful information about Bridge and FireWire devices
Six LEDs provide status on power, host connection, FireWire device detection, write-block status, and activity
Six LEDs provide status on power, host connection, FireWire device detection, write-block status, and activity