TRAININGS
Professional & dedicated training programs
WHY COME?
Our online training courses focus on practical tasks: the attendees will solve live cases under the supervision of the instructor via a remote computer. All the courses are interactive: the attendees can ask questions and get help just like as they attend the offline training.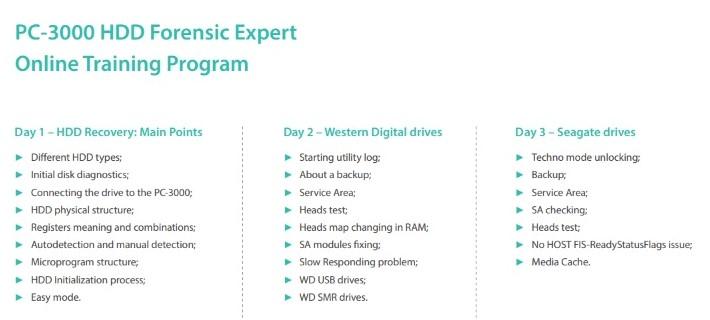 How the PC-3000 Data Recovery Online Training Courses strengthen the attendees' competence:
5-hour training boosts the data recovery skills at the very beginning - no need to study a lot of tech info on your own
A mix of useful theoretical knowledge and real practical tasks allows getting a higher success rate straight after the training
Useful handouts reinforce the knowledge if it's necessary in the future
COURSE COMPONENTS
---
The course consists of theoretical and practical components.
How to connect different HDDs to the PC-3000 ports. Terminal connection.
How / when / why to perform a backup. How to use the PC-3000 database.
The internal structure of HDDs. How to diagnose the drive's condition with ATA-registers.
Brief overview of the Firmware structure. Basic diagnostic.
Diagnosing the Western Digital HDDs. Practical Task №1.
Diagnosing the Seagate HDDs. Practical Task №2.
How to recover data with the Data Extractor software.
How to find donor parts for your patient drives. Automatic "Search donor drives" button.
DATE AND TIME
---
The online classes take place regularly.
For dates and times please contact us! Request quote
Here you have the opportunity to register for the current training. Or contact us for more information.