OPPORTUNITIES AT MH SERVICE
MITARBEITER/-IN (M/W/D) FÜR SOFTWARE-SALES MIT SCHWERPUNKT EDISCOVERY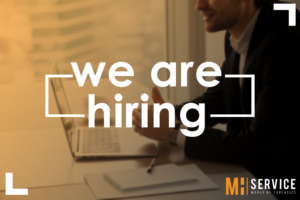 Zur Verstärkung unseres Vertriebsteams suchen wir:
Vertriebsmitarbeiter/in mit Erfahrung im IT-Bereich für den Software-Sales im Bereich eDiscovery
Anforderungsprofil
Mehrjährige Berufserfahrung im IT-Umfeld
Vorzugsweise Erfahrung im Bereich eDiscovery
Vertriebsaffinität, Kommunikationsstärke und Lernbereitschaft
Souveränes Auftreten
Technische Kompetenz
Fließende Deutsch- und grundlegende Englischkenntnisse
Ihr Aufgabengebiet
Betreuung unserer langjährigen Bestandskunden und potenzieller Neukunden
Ausarbeitung kundenindividueller Angebote, Präsentationen, und Verträge in enger Abstimmung mit dem Inside Sales
Produkteinweisungen und Supportunterstützung
Auftritte auf Messen und Konferenzen einschließlich Präsentationen
Verhandlungen und Koordination mit internationalen Partnern
Ausbau des Geschäftsbereichs eDiscovery
Beratung und Ermittlungsunterstützung rund um den EDRM Prozess
Wir bieten
Sie werden unterstützt von unserem Sales-Team mit langjähriger Erfahrung
Sie arbeiten in einem dynamischen jungen Team, das offen miteinander kommuniziert und sich gegenseitig unterstützt
Umfassende Schulung und regelmäßige Trainings und Weiterbildungen
Spannendes Themengebiet und flache Hierarchien.
Kontakt
Bitte senden Sie Ihre Bewerbung einschließlich Gehaltsvorstellung an info@mh-service.de. Bei Fragen stehen wir Ihnen per Mail oder telefonisch unter 07275 404440 gerne zur Verfügung.
Wir freuen uns auf Sie!
Vehicle Mechatronics Technician (M/F/D)
We are looking for a motor vehicle mechatronics technician (m / f / d) to begin as soon as possible. To carry out maintenance, inspection and repair work as well as testing and analysing the vehicles and their read-out software and hardware as well as the subsequent correction of errors and faults and find the causes of malfunction.
A completed training as a vehicle mechatronics technician (m / f / d) or a comparable training, along with experience and know-how is desired. If you have extensive experience in the field of electronic and mechanical components, as well as in reading out and programming control devices then please contact us.This position is a full time post