PRODUKTE
Fälle schneller lösen dank der passenden Tools!
LEAP (Law Enforcement Analytical Platform) ist ein automatisiertes Tool zur schnellen Analyse von Extraktionen mobiler Geräte und anderen Medienquellen. LEAP ist darauf ausgelegt, dem Benutzer einen "schnellen und informativen Überblick" über den Inhalt von Quelldaten von digitalen Geräten zu bieten, wobei der Schwerpunkt auf der Analyse von Medieninhalten liegt. LEAP generiert automatisch schnelle Analyseberichte, um eine Untersuchung sofort zu fokussieren, Prioritätsziele und Geräte zu identifizieren und relevante Informationen bereitzustellen.
Vorteile:
●     Schnell verwertbare Informationen: Automatische Berichte und aggregierte Daten ermöglichen es den Ermittlern, schneller Entscheidungen zu treffen und ihre Ermittlungen voranzutreiben, ohne auf manuelle Analyse- und Berichtsprozesse warten zu müssen.
●     Standardisierter Ansatz: Analyseprofile können konfiguriert und dann automatisch ausgeführt werden
●     Minimale Schulung: LEAP ist einfach zu bedienen und nutzt eine webbasierte GUI, die den Zugriff auf mehrere Geräte- und Plattformtypen ermöglicht, ohne dass auf jedem Gerät ein Client installiert werden muss
●     Schnelle Datenscreening: Die leistungsstarke Medienanalyse-Engine von LEAP ist in der Lage, Tausende von Bildern, Videos und Dokumenten schnell zu durchsuchen und verwendet Technologien des maschinellen Lernens, um relevante Inhalte zu identifizieren
Specific Threat Analysis:
●     T3Ks anspruchsvolle Technologie des maschinellen Lernens bietet automatisierte und teilautomatisierte analytische Unterstützung für spezifische Anwendungsfälle. Diese Al-Module können auch angepasst und geschult werden, um Ihre speziellen polizeilichen Operationen und den Bedarf an schneller forensischer Analyse zu unterstützen.
●     Überprüfung von Identität und Herkunftsland und Ermöglichen einer Bedrohungsüberprüfung von Reisenden
●     Bereitstellung automatisierter Medienklassifizierung zur Erkennung von rechtswidrigen Inhalten
●     Beantwortung erster Fragen für Ermittler in Minuten dank automatisierter Berichterstattung
●     Die Screening kann problemlos von technischen Laien durchgeführt werden, da sie nahtlos in bestehende Arbeitsabläufe integriert ist
●      Gibt Kunden die Möglichkeit, Fälle und Geräte durch schnelles Scannen von extrahierten Daten aus beschlagnahmten Geräten zu priorisieren
●     Wird für Einwanderung und organisierte Kriminalität, CSAM (sexueller Missbrauch von Kindern), TVEC (terroristische und gewalttätige extremistische Inhalte), Betrugsbekämpfung und vieles mehr verwendet
LEAP Setup:
LEAP kann mit den folgenden Toolkits für die mobile Extraktion und den folgenden Festplatten-Image-Formaten kombiniert werden:
●   MSAB Extended XML
●   Cellebrite UFDR
●   Oxygen Forensics XML
●   MobilEdit XML & UFDR
●   Forensisches Image (.E01)
●   Rohes Festplattenimage (.dd, .001 usw.)
●   Grayshift Graykey .ZIP
LEAP is ideally suited as a networked solution, utilising a centralised server setup of varying scales. However, all software developed by T3K is fully containerized, allowing for easy adoptions into the most common cloud environments.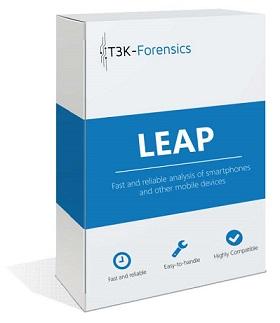 Unsere Experten sind gerne für Sie da.