PRODUKTE
Fälle schneller lösen dank der passenden Tools!
The PC-3000 Flash is a hardware-software system intended for recovering data from all NAND based devices in such cases where there is no access through the authorized drive interface:
UFD (USB Flash Drive)
SD (Secure Digital Card)
CF (Compact Flash)
micro SD (micro Secure Digital Card)
MS (Memory Stick)
Monolithic Flash Devices
MMC (Multi Media Card)
eMMC (embedded Multi Media Card)
VoiceRecorder (dictaphone)
iPhone (without hardware encryption)
Data recovery from USB drives, memory cards, mobile storage devices
The PC-3000 Flash is based on our own "know-how" technology of getting direct access to Flash memory microchips. The microchip is desoldered from the storage device and read by our special device – the "Flash reader" – providing access to data when the controller is damaged. This technology greatly increases the chances of successful data recovery even when the storage device is physically damaged.
The PC-3000 Flash contains an up-to-date large memory chip database that allows you to identify and read microchips in automatic mode. Complicated stack organizations which consist of several parts are automatically detected by the PC-3000 Flash as well.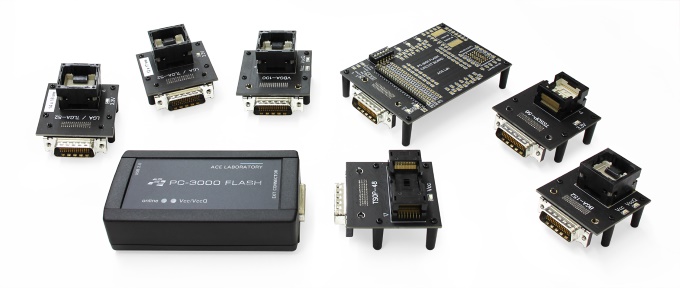 NAND microchip technology is constantly changing: microchips are becoming more high-tech, new principles of functionality are created and new requirements and protocols for microchips appear, for example, TLC microchips (Triple Level Cell). Because of this constant change, the Flash Reader software is continuously updated to provide support for new microchips in accordance with the strict requirements necessary for correct functionality.
The PC-3000 Flash is capable of automatically checking and downloading the latest libraries via the Internet:
Memory chip library
ECC algorithm library
XOR library
Library of Analysis algorithms, preparation and research methods
Page format library
Supply circuit library
Rereading Modes reference book
Dynamic XOR library
If there are any new resources, they are downloaded from the ACE Laboratory server and updated.
In addition to a great variety of manual and visual modes, the PC-3000 Flash has automatic data recovery methods which help solve both simple and difficult cases. For example, in most cases, Complex analysis allows for making all prior operations automatically and get access to user data.
With the PC-3000 Flash, you can recover data with "one-click" using the PC-3000 Flash Global Solution Centre. It is a dream come true for data recovery specialists!
The Global Solution Centre is updated daily!
The list of controllers supported by "Global Solution Centre" can be reviewed here
THE PC-3000 Flash Kit
PC Flash Reader - 1pcs
TSOP-48 Adapter – 1 pc.
LGA/TLGA-52 adapter (14x18) - 1pcs.
BGA-152/132 adapter - 1 pcs.
Circuit Board adapter - 1 pcs.
USB 2.0 Defender Cable - 1 pcs.
PC-3000 Flash Software - 1 DVD
User Manual - 1 pcs.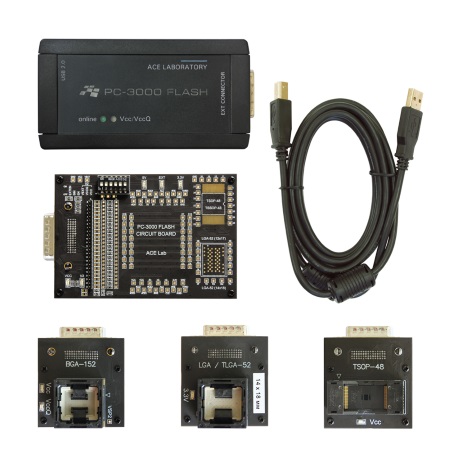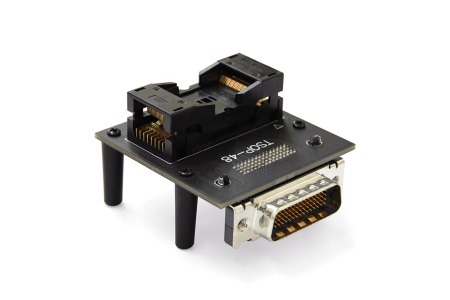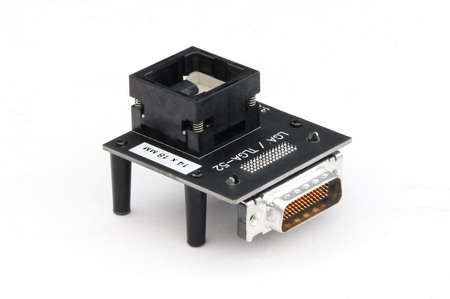 LGA/TLGA-52 adapter (14x18)
PC-3000 Flash Software and User Manual
Interface to connect Flash-Reader: USB 2.0
Supported types of memory chip covers:
TSOP-48 N/W (is integrated into PC Flash Reader)
LGA/TLGA-52 [14x18] (is included into the PC-3000 Flash Kit)
BGA-152/132 (is included into the PC-3000 Flash Kit)
Circuit Board (is included into the PC-3000 Flash Kit)
TSOP-48 (is included into the PC-3000 Flash Kit)
LGA/TLGA-52 [12x17] (can be purchased separately)
TSSOP-56 (can be purchased separately)
Memory chip reading speed:
5-15 MB/S. Determined by parameters of reading process and microchip architecture
active state and status of the reader
power supply on the circuit Vcc
power supply on the circuit VccQ
Integrated Power Control Adapter parameters:
the number of independent circuits: 2 (Vcc, VccQ);
voltage range: 0.8 V - 3.6 V;
voltage step: 0.05 V;
source types: impulse or line - (can be selected by software);
Limitation of current consumption: 150 mA, 200mA, 500mA, 1.5A, Unlimited;
delays in buffer elements: 3 ns;
Supported types of controllers and memory chips:
Supported OS: Windows XP, Windows Vista, Windows 7, Windows 8, Windows 10; x86, x64
Recommended PC configuration:
CPU: Intel Core i5 (Quad Core)
RAM: 8GB
Storage configuration: RAID0 (strip) x2 HDD (7200 rpm) with total capacity of 1 TB
LCD Monitor: 22", 1920x1080
Our experts are happy to help you.