PRODUKTE
Fälle schneller lösen dank der passenden Tools!
MediaClone SuperImager® Plus 8" Portable 5 NVMe* + 5 SATA/SAS* ports Forensic Imaging Unit with Thunderbolt 3.0 and Dual OS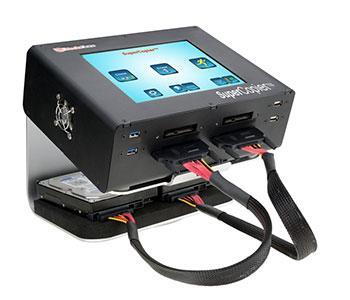 Forensic Imager 8" Portable Field Unit mit 5 NVMe-, 5 SATA/SAS*- und Thunderbolt 3.0-Anschlüssen. Es handelt sich um ein hochleistungsfähiges tragbares Forensik-Imaging-Tool und eine vollständige Plattform für forensische Computeruntersuchungen. Es ist mit Dual Open OS (Linux für schnelle Imaging/Win10 
für forensische Analyse, Handy-Extraktion und Triage-Erfassung) konfiguriert. Das Gerät verfügt über 2 SATA-Strom- und Datenanschlüsse, einen e-SATA-Anschluss, 4 U.2-NVMe-Strom- und Datenanschlüsse, 8 USB3.1/3.0-Anschlüsse und wird mit einem M.2-NVMe-Controller + 4 SAS-Port-Controllern geliefert, die in der TB 3.0 Expansion Box installiert sind. Unter Linux kann der Benutzer mehrere gleichzeitige forensische Images erstellen (Mirror Image, einzelne Partition, Linux-DD, EnCase, Mix E01/DD, VHD, Triage mit Dateien und Ordnern) mit 3 HASH-Werten (MD5, SHA1 und SHA2 laufen alle drei gleichzeitig), Verschlüsselung, Komprimierung, Keyword-Suche ausführen und die Images in einem Netzwerk speichern. Als Plattform unter Win 10 kann der Benutzer eine vollständige forensische Analyse, Triage-Erfassung und Extraktion von Handydaten durchführen.
Die Imaging-Geschwindigkeit von NVMe-SSD kann 187 GB/min erreichen.Die Hardware des Geräts ist sehr robust und läuft mit einer i7-CPU der 11. Generation und hat 32 GB Speicher.
Das Gerät wird geliefert mit:
Remote Capture KIT

Virtual Emulator (zum Betrachten des verdächtigen Laufwerks vor der Erfassung).

4 U.2 Verlängerungskabel.

4 U.2-auf-M.2-NVMe-Adapter.

Thunderbolt 3.0 zu PCI-E Expansion Box mit 4 SAS Ports Controllern + M.2 NVMe Controller.
e-SATA-Anschluss: ein Anschluss am Hauptgerät

4 SAS/SATA-Anschlüsse: 4 Anschlüsse an der TB Expansion Box (nur Daten)

5 NVMe-Anschlüsse: 4 U.2 NVMe-Anschlüsse am Hauptgerät (Strom und Daten) und ein M.2 NVMe-
Die Thunderbolt Expansion Box bringt eine Menge zusätzlicher Konnektivität. Wichtige Optionen sind: Thunderbolt 3.0 auf 10GbE-Adapter und das Mac/Thunderbolt-Acquisition Kit Weitere Optionen verfügbar.
Weitere Informationen hier 
Unsere Experten sind gerne für Sie da.